The oil and gas industry continues to be a hotbed of innovation, with activity driven by the need for more efficient production, enhanced safety and long-term sustainability. Digital technologies are playing a transformative role in meeting these objectives and this is characterised by the growing importance of technologies such as artificial intelligence (AI), cloud computing, internet of things, and robotics.
In the last three years alone, there have been over 534,000 patents filed and granted in the oil & gas industry, according to GlobalData's report on Robotics in Oil & Gas: Unmanned Maintenance Operation.
However, not all innovations are equal and nor do they follow a constant upward trend. Instead, their evolution takes the form of an S-shaped curve that reflects their typical lifecycle from early emergence to accelerating adoption, before finally stabilising and reaching maturity.
Identifying where a particular innovation is on this journey, especially those that are in the emerging and accelerating stages, is essential for understanding their current level of adoption and the likely future trajectory and impact they will have.
150+ innovations will shape the oil & gas industry
According to GlobalData's Technology Foresights, which plots the S-curve for the oil & gas industry using innovation intensity models built on over 256,000 patents, there are 40+ innovation areas that will shape the future of the industry.

Within the emerging innovation stage, robotic drilling machines is a disruptive technology that is in the early stages of application and should be tracked closely. Automated drilling tools, predictive maintenance systems, and force feedback robots are some of the accelerating innovation areas, where adoption has been steadily increasing. Among maturing innovation areas is jig conveyors, which is now well established in the industry.
Innovation S-curve for robotics in the oil & gas industry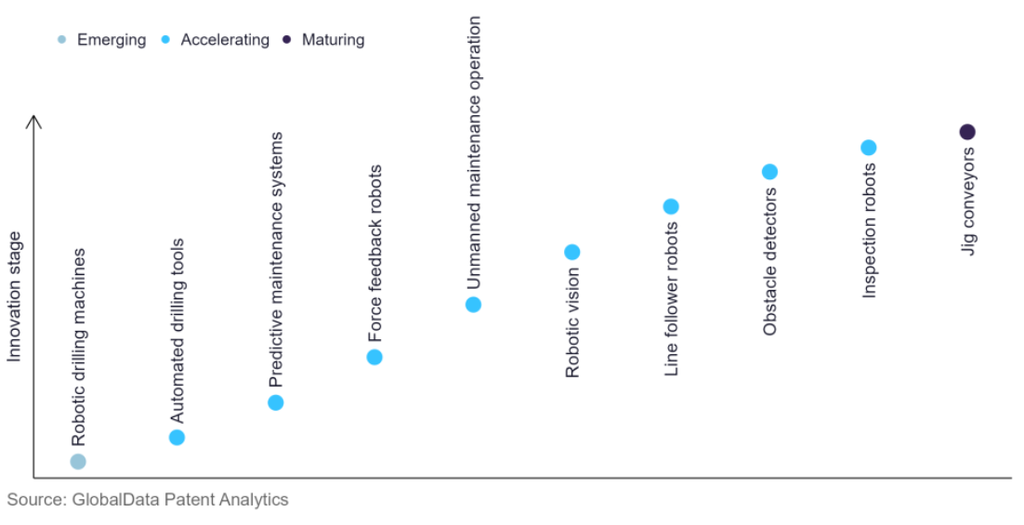 Unmanned maintenance operation is a key innovation area in robotics
Robotics, by default, offers improved maintenance capabilities to oil and gas activities. Broadly speaking, robotic deployment tends to be unmanned, and either autonomous or remotely operated. Unmanned aircraft systems (UAS) or simply drones, help in performing inspection, repair, and maintenance (IRM) tasks over wide areas in a short span, especially those which are not easily reachable, such as a flare stack or an offshore platform.

Similarly, autonomous underwater vehicles (AUVs) or remotely operated vehicles (ROVs) have become essential in undertaking subsea infrastructure maintenance activities. Another robotic technology, crawler robots, is being used for performing maintenance activities in constrained areas that may be otherwise inaccessible to humans.

GlobalData's analysis also uncovers the companies at the forefront of each innovation area and assesses the potential reach and impact of their patenting activity across different applications and geographies. According to GlobalData, there are 20+ companies, spanning technology vendors, established oil & gas companies, and up-and-coming start-ups engaged in the development and application of unmanned maintenance operation.
Key players in unmanned maintenance operation – a disruptive innovation in the oil & gas industry
''Application diversity' measures the number of different applications identified for each relevant patent and broadly splits companies into either 'niche' or 'diversified' innovators.

'Geographic reach' refers to the number of different countries each relevant patent is registered in and reflects the breadth of geographic application intended, ranging from 'global' to 'local'.

Leaders in the robotics patent filing for unmanned maintenance operations include Fanuc, Kawasaki Heavy Industries, and ABB. Robotics has been an essential part of the oil and gas industry for several decades and has been adopted for inspection and maintenance tasks. Over time, the role of robots in the industry has evolved into a diverse one, with a growing list of functionalities. This includes terrestrial crawlers, quadrupeds, aerial drones, autonomous underwater vehicles (AUVs), and ROVs.

Fanuc is one of the prominent robotics and automation vendors in the world. Its robotics solutions can undertake a host of production and maintenance tasks in an industrial setting.

Kawasaki Heavy Industries' autonomous underwater vehicle, SPICE, can undertake deep sea inspection and maintenance of subsea assets.

To further understand how robotics is disrupting the oil & gas industry, access GlobalData's latest thematic research report on Robotics in Oil & Gas (2021).
GlobalData, the leading provider of industry intelligence, provided the underlying data, research, and analysis used to produce this article.
GlobalData's Patent Analytics tracks patent filings and grants from official offices around the world. Textual analysis and official patent classifications are used to group patents into key thematic areas and link them to specific companies across the world's largest industries.