Robotics has been a part of the oil and gas industry for several decades. Development began in the 1960s with remotely operated vehicles (ROVs) that had basic mechanical functions. In the last decade, industrial robots have become capable of replacing manual laborers on oil rigs.

However, recent integration with AI, cloud, IoT, and edge technologies have helped diversify robot use cases. Robots involved in oil and gas operations now include terrestrial crawlers, quadrupeds, aerial drones, and autonomous underwater vehicles (AUVs), in addition to the growing number of caged industrial robots and co-bots that perform complex tasks.

These devices limit the danger posed to humans working alongside heavy machinery in often remote and harsh locations.

The single biggest advantage of robotics is automation, which drives other benefits like improved worker safety, greater efficiency, and continuous data generation. The main application of robots in the oil and gas sector is currently inspection and monitoring robots.

Innovation from other sectors, such as automotive and manufacturing, will likely help to integrate robotics across the oil and gas value chain, with robots involved in all aspects of an asset's lifespan.

For example, robots used for feasibility surveys and seafloor studies will be increasingly modular and customised to play a greater role in installing oil and gas facilities. Inspection and cleaning robots are used in up, mid, and downstream facilities to help manage assets, while AI advances will enable maintenance robot improvements. These advances will help oil and gas companies manage their aging infrastructure while enhancing operational performance.
Robotics' impact on the oil and gas sector ranges from improving health and safety to increasing operational efficiency
The matrix below details the areas in robotics where oil and gas companies should focus their time and resources. We suggest that oil and gas companies invest in technologies shaded in green, explore the prospect of investing in technologies shaded in yellow, and ignore areas shaded in red.
Investment includes hiring specialists in this area, purchasing equipment, or signing contracts with specialist tech vendors. To explore a particular segment, oil and gas companies can form partnerships with tech vendors and conduct feasibility studies or research programs with universities.
Some elements of the robotics value chain, such as field and consumer robots, can be ignored by oil and gas adopters due to a lack of applications or because it is an aspect for the attention of specialist robotics tech vendors rather than adopters.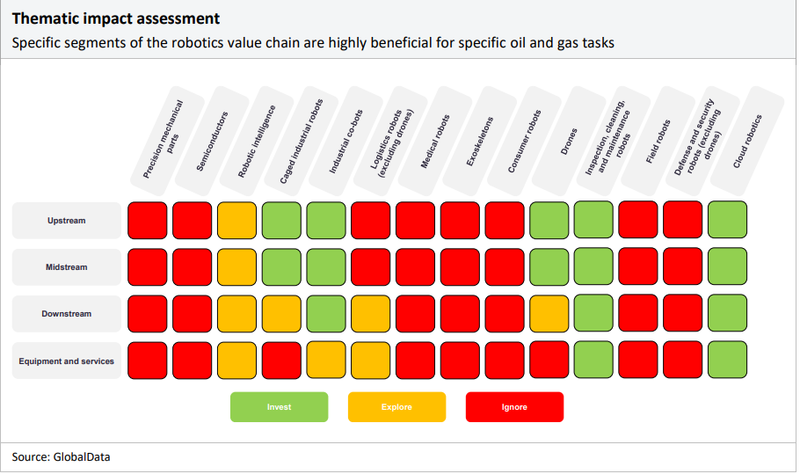 Robotics adoption in the upstream sector is driven by the need to improve efficiency, productivity, and safety. During a project's planning phase, robots can conduct aerial or seismic surveys to aid in exploring new wells. During the construction phases, robots can handle critical materials, which is particularly useful in difficult-to-access locations such as the seabed.
Robots are also useful in well operations and can help to perform inspections, repairs, and maintenance. In addition, drones can inspect vertical structures such as drilling assets, reducing the need for scaffolding. However, an experienced driver and inspection engineer to monitor the live video feed are still required while autonomous systems develop.
Other improvements, such as beyond visual line of sight (BVLOS) capabilities, will provide greater drone operative range for inspection tasks. At each stage in the upstream segment, facilities designed to be unmanned will be optimised for robot deployment.
Industry leaders, such as BP, Shell, ExxonMobil, and Equinor, have tested autonomous robots at their upstream facilities and sought to improve their performance.
The midstream sector manages aging storage and transportation facilities. They suffer from corrosion and cracks while filters clog up with sludge. This not only reduces the efficiency of pipelines but also poses a risk to nature and humans.
Robots can access infrastructure in remote locations and automate inspection tasks. Unmanned ground vehicles (UGVs) and unmanned underwater vehicles (UUVs) are used for onshore and offshore pipeline inspection, respectively. They can detect leaks and provide feedback on overall infrastructure health.
In addition, robots are also being deployed to clean storage tanks, often without needing to drain the tank so production can continue. When combined with other digital technologies, such as AI and IoT networks, robots can deliver actionable insights to minimise equipment downtime, enhance operational performance, and extend an asset's lifespan, helping to reduce capital and operating expenditures.
Similar benefits are possible in the downstream sector. For example, automated refuelling and material handling are two significant downstream applications of industrial and logistics robots.
GlobalData, the leading provider of industry intelligence, provided the underlying data, research, and analysis used to produce this article.
GlobalData's Thematic Intelligence uses proprietary data, research, and analysis to provide a forward-looking perspective on the key themes that will shape the future of the world's largest industries and the organisations within them.