The FLNG facilities soothing Europe's energy fears
The trade breakdown between Europe and Russia has opened up a massive market for LNG facilities. Nnamdi Anyadike looks at the new facilities hoping to feed this energy hunger.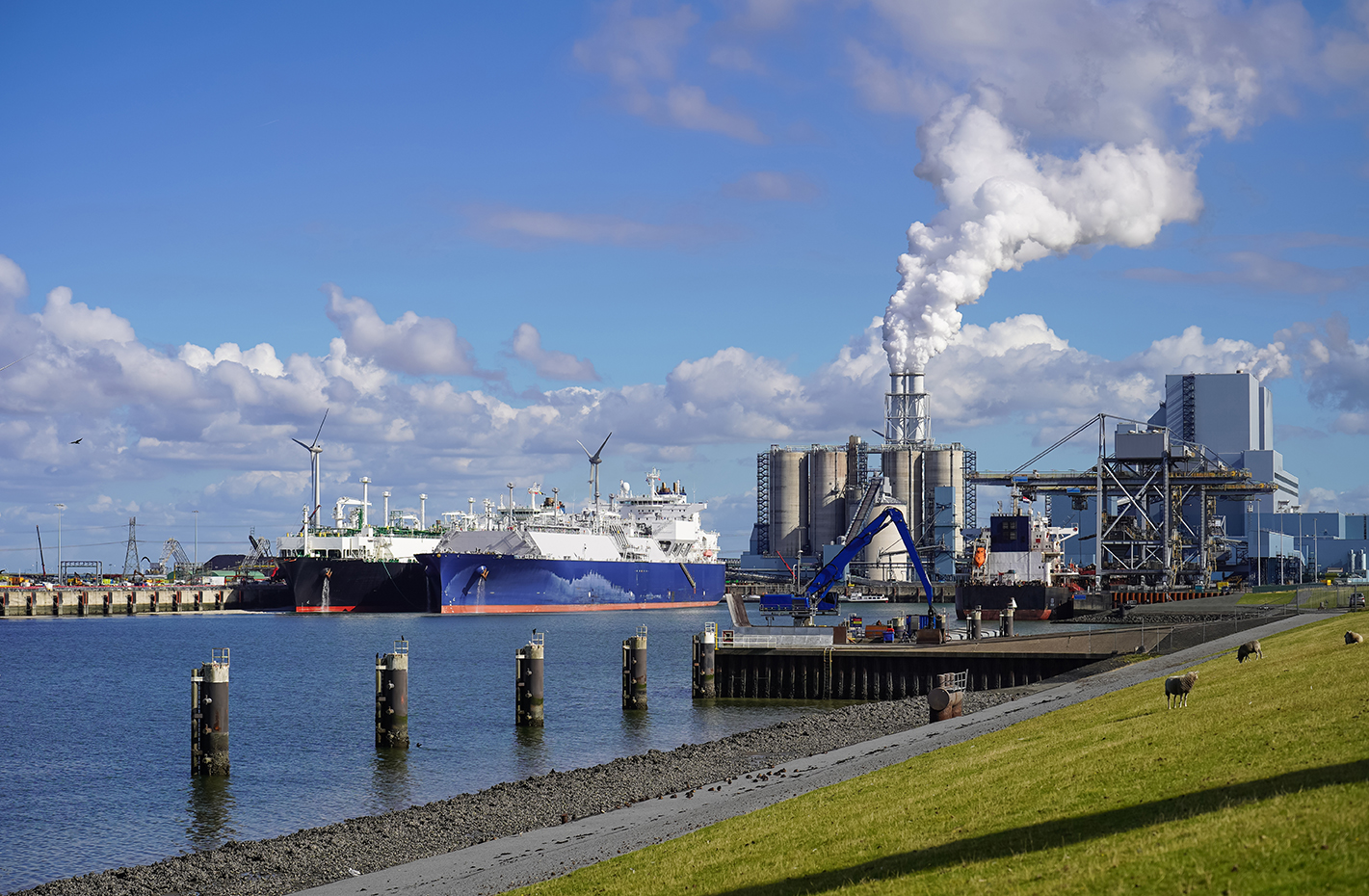 Floating LNG terminal at Eemshaven, Germany. Credit: Sander van der Werf via Shutterstock
Europe is in a race against time. European nations seek to replace piped gas, formerly sourced from Russia, with alternatives before 2030. By then, the EU aims to have completely phased out a fuel source that powered the continent for decades.
The obvious but costly alternative is to import liquefied natural gas (LNG). However, years of complacency has resulted in a scarcity of LNG facilities across Europe, and rectifying this will require substantial sums of investment, if the 2030 target is to be met. The most cost-effective solution, and one which can be expedited within a reasonable timeframe, is to build floating liquefied natural gas (FLNG) terminals. These terminals, using offshore floating storage and regasification units (FSRUs), can be installed more quickly than onshore, permanent import terminals.
EU's 'race against time' to wean off Russian gas
However, switching Europe away from Russian gas and towards imported LNG will be a formidable challenge, even with the use of floating infrastructure. A recent report by GlobalData, the parent company of Offshore Technology, warns that "Europe currently has an underdeveloped LNG infrastructure. For example Germany, the bloc's largest economy, did not have an active LNG regasification plant before December 2022."
Although European gas demand is expected to drop by 440 billion cubic metres (bcm) between 2022 and 2023, which will alleviate some of the pressure on imports, the report points out that "Europe's gas demand will continue to outpace domestic supply".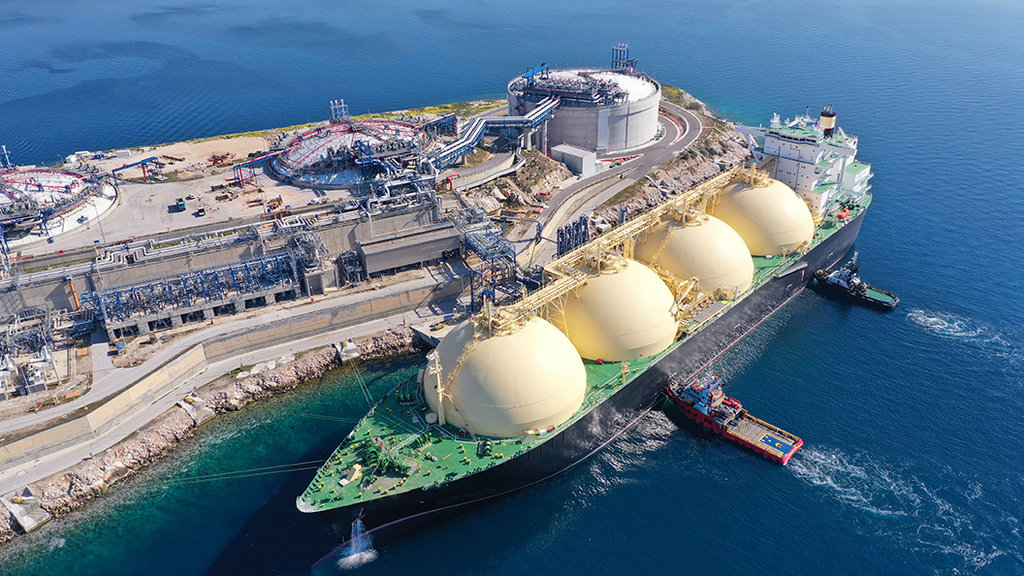 Floating LNG terminals allow faster deployment than land-based facilities. Credit: Aerial-motion via Shutterstock
Germany is pulling out all the stops in its headlong rush towards LNG. Having chosen to turn its back on its domestic nuclear energy industry some years ago in favour of gas, in the wake of Russia's all-out invasion of Ukraine it was faced with the prospect of a full-blown energy crisis as a result of trade sanctions. In the past year, it has moved ahead with several new FSRUs as well as two permanent onshore LNG import sites. By December, it had arranged for a fifth FLNG terminal in addition to the four repurposed LNG tankers that were secured in May. A sixth, stationed in Lubmin and delivered by TotalEnergies, was inaugurated in January this year.
Each of the five mobile LNG terminals will be able to provide a minimum of 5bcm of gas per year, although some may be able to regasify around 8bcm. However, this needs to be seen in the context of Germany's gas imports from Russia, which historically sat at around 50bcm per year. 
Mediterranean turns away from Russian gas
Countries in the Mediterranean that were once heavily dependent on Russian pipeline gas are also investing in the infrastructure necessary to make the switch to LNG. There are plans for five FSRUs in Greece, which aims to become a gas hub for supplies to the wider south-east Europe region. The country's first offshore LNG terminal, operated by the Gastrade consortium, will curb the region's dependence on natural gas delivered through a single, land-based pipeline. Konstantinos Sifnaios of Gastrade, the vice president and managing director of the first Greek company to receive an independent gas system license, commented: "We realised how vulnerable south-eastern Europe was to a disruption if only one source for gas supply was available, and how important it was to have alternatives in terms of both supply routes and sources."
We realised how vulnerable south-eastern Europe was to a disruption if only one source for gas supply was available.
There are plans for two FSRUs in Italy plus two more for the island of Sardinia. In May, Italy's OLT Offshore LNG Toscana received authorisation to increase its annual regasification capacity from the current 3.75bcm to about 5bcm per year. The OLT plant upgrade enables small LNG carriers to load LNG directly at the FSRU Toscana terminal, to refuel LNG ships, or to deliver it to coastal deposits within Mediterranean ports. Giovanni Giorgi, CEO of OLT Offshore LNG Toscana, said: "Thanks to the increase in the authorised regasification capacity and the number of berths, FSRU Toscana will be able to further increase its contribution to diversification and security of supply."
Africa playing key FLNG supplier role
Elsewhere, there are also plans for two FSRUs in Ireland and single FSRUs in France, Finland, Estonia, Cyprus and Poland. But Europe is also investing substantial sums in FLNG infrastructure in gas supplier countries in Africa, such as Mozambique, Nigeria and Congo. These are expected to play a significant role in the European market in coming years.
Ongoing projects include UTM Offshore's FLNG project in Nigeria, where co-financing plans are expected to close before the end of this year. With finance in place, operators hope that the facility could come online in the fourth quarter of 2026, exporting 1.2 million tonnes per year (mtpa) of LNG. The project received a major boost in July, when Nigeria's NNPC Ltd took a 20% stake in the scheme. France's Ambassador to Nigeria, Emmanuelle Blatmann, has welcomed the project, stressing that gas from Nigeria would be a viable source of supply for Europe.

France's Ambassador to Nigeria welcomed the project, stressing that gas from Nigeria would be a viable source of supply for Europe
Further west, phase 1 of the Mauritania-Senegal Greater Tortue Ahmeyim FLNG project is moving ahead. It lies in 2km-deep waters on the maritime border of the two countries and is estimated to hold 15 tcf of natural gas resources. Operator BP will work the field for an estimated period of 30 years, with first gas expected later this year. Phase one will initially produce 2.5mtpa of LNG, expected to increase to 5mtpa in phase two and up to 10mtpa in later phases.
Eni makes moves in African LNG
To the south, Angola's state oil company Sonangol is also eyeing FLNG. Last year, the company began talks with Eni and a number of project partners in the 'New Gas Consortium', including Chevron's affiliate in Angola, Cabinda Gulf Oil Company Ltd, Sonangol, BP and TotalEnergies. This follows the Final Investment Decision for the development of the Quiluma and Maboqueiro gas fields. Offshore wellhead platforms, an onshore gas processing plant and a connection to the Angola LNG plant will be built to allow the production of up to 4bcm of LNG per year from 2026.
Meanwhile, in Mozambique, the Coral-Sul FLNG project, located in the ultra-deep waters of the Rovuma basin, was officially launched by Filipe Jacinto Nyusi, President of Mozambique last December. The launch follows the first shipment from the facility a month earlier by Italian giant Eni, the facility's majority stakeholder. The Coral-Sul FLNG vessel has an installed capacity of 3.4mtpa of LNG. In Congo, Eni launched the rapid scale-up of an FLNG production project in April, specifically designed to target the European market. The two-stage FLNG project commenced last August with the acquisition of a necessary vessel, currently undergoing conversion, and production is set to begin later this year. In the second phase, a second FLNG vessel will provide an additional 2.4mtpa in gas production, bringing the total production capacity for the project to 3mtpa. A newbuild 2.4mtpa floating FLNG vessel will come online in 2025.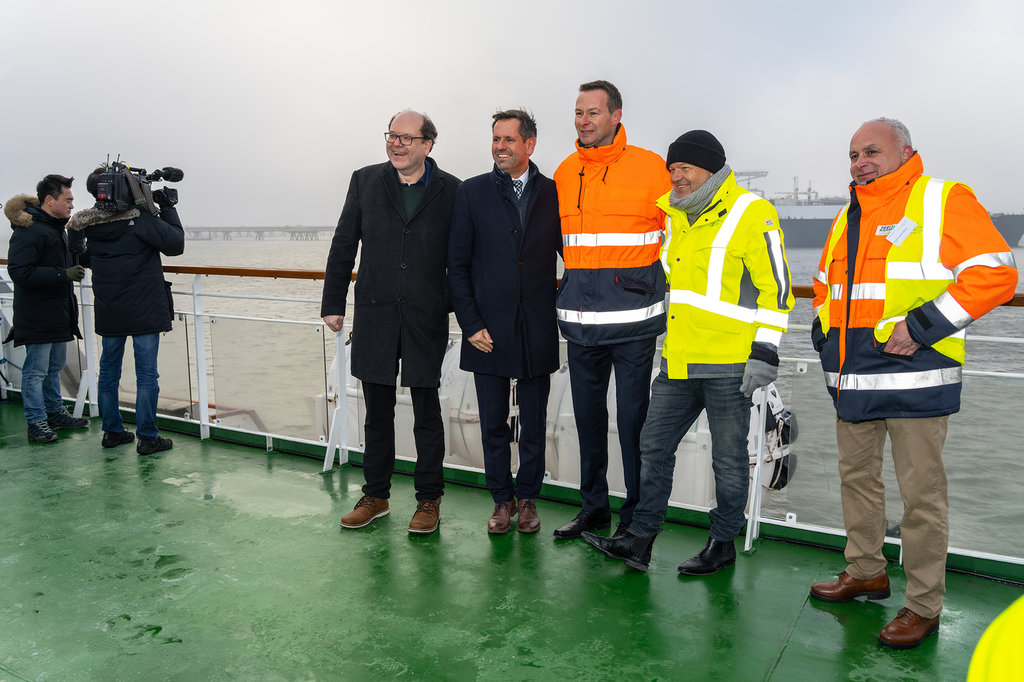 German Chancellor Olaf Scholz opens an LNG terminal in Wilhelmshaven. Credit: Heide Pinkall via Shutterstock
These facilities will feed a supply shortage in Europe, and allow Africa to build business where Russia previously dealt, but as the GlobalData report makes clear, European demand for gas will continue to outpace domestic supply for some years to come. This inevitably means that plans by the bloc to completely wean its self off Russian gas imports, will compete with the EU's decarbonisation goals for attention. If that the profile of energy security keeps rising, then these FLNG facilities will play a vital role for years to come.